Happy Monday, dear readers! I hope your weekend went well.
Recently, I decided to call upon my Serbian roots and make some traditional food. The fillo dough I bought at the Euro mart a few weeks ago was sitting in my freezer and needed to be utilized. When she was here, my grandma gave me her recipe for making cheese pita, a kind of savory pie that is a staple of Serbian cuisine. Though she always made her dough from scratch, her advanced age had caught up with her and my grandmother was now using fillo dough to make her pitas.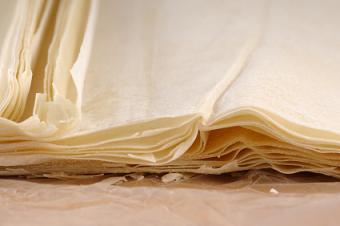 Fillo dough, out of the box. It's supposed to be available in major grocery store chains, but I have yet to find them outside of the Euro mart here. Pic found here
Though I understood her reason and rationale for doing so, this admission saddened me because my grandmother's pitas were always doughy and thick, which was what I came to understand pita as being (though to make things especially confusing, pita can be made with thick or thin dough and that pita, gibanica, and burek are all mostly interchangeable terms to describe savory pies in Balkan cuisine). However, when she made burek, that was the only time she used fillo dough for something that wasn't a pastry.
Burek, like pita, is a savory pie from the Balkans. Just about every country and dialect there has a name for burek, and it is usually filled with cheeses or meats (though vegetables like spinach are common). Burek can be rectangular, round, horseshoe, or spiral shaped (the latter is common in Bosnia). It is usually made with dough stretched thin that can be either handmade or from fillo.
This is how I remember burek from my childhood. If fillo dough is not used, then the dough is handmade and stretched very thin over a large surface area and folded over with the fillings. Pic found here
Since my husband positively despises cheese, I decided to make meat burek. I remembered there was a Serbian deli a few towns over from where I grew up in the Chicago suburbs, and to this day I remembered how good the owner made his meat burek. He used ground beef seasoned with a little salt, pepper, and a pinch of paprika. I don't remember if he used anything other than beef, but the taste has remained burned in my memory all these years. This would be a good way to use up my fillo dough.
After I let it thaw in the fridge for a day or so, I took out the fillo dough along with some canola oil, and a pastry brush. When making these pies, it is essential that the dough be greased with each layer.
I started off by cooking the meat filling first. We had a leftover pound or so of ground beef that needed to be eaten, and I added in my customary chopped onion and garlic for flavoring. I then added some salt, pepper, and a touch of paprika.
Filling in progress
When the meat was finished, I turned on the oven and as it warmed up, I set about assembling the burek. I had no clue how fragile fillo dough was until I began unraveling its sheets from the roll and layering them in the pan. The sheets were tearing and literally disintegrating in my hands, no matter how carefully I picked them up. My grandmother and mom made handling them look so easy! HOW?!
After oiling each sheet and before laying the next one down, I added my meat filling after every few layers. With the fillo dough fast becoming dry, I finished off the package by just throwing on the last few sheets, oiling them up and putting them in the oven. My grandmother's baking instructions were just to let the pita (or burek, in my case) bake at 350 until golden brown, which I figured wouldn't take that long.
FINALLY assembled and ready to bake!
Despite me periodically opening the oven to check on the burek (our oven does not have a light), it took almost an hour and a half before the top looked even halfway tan, but as I would discover when I cut the burek to eat, I had overcooked it. The bottom was kinda burned, the middle layers were alright, but the top layers were dry and the whole thing was quite greasy from all the oil I'd slathered the fillo sheets with. Despite the amount of meat I made, I felt like I hadn't used enough for this dish to turn out as good as I remember it being.
Finished
My first burek. Needs more meat and less time in the oven
Even though I was disappointed by the way this burek turned out, it was a learning experience in a number of ways. Fillo dough is fragile and dries out very quickly, so I have to figure out an easy way to keep the layers moist and if there is a way of handling the sheets so that they don't disintegrate as I'm handling them. I could also take a stab at making the dough from scratch, although my counter is tiny and I may have to get creative about space. Also, I feel like my dough to meat proportions were off and that the next time I make burek, I'll see how well 2 lbs of ground beef works with a package of fillo dough. I'll also use a different pan next time to see if the kind of pan I bake with has an effect on how the burek turns out.
It may take a while and a few bombed bureks before I finally get it right, but for better or worse, I don't give up. To make a good burek is an art, one that I aim to achieve.
Thank you for reading this post and please don't forget to share, comment, and subscribe!