Greetings dear readers! How are you doing today?
While waiting for my husband to come home from work last night, I walked down into the Youtube wormhole of hair tutorials. I specifically was binge watching Afro hair tutorials concerning cornrows and Ghana braids, a modified form of cornrows where braiding hair extensions are gradually added in to create fuller braids. In the past, I've attempted to do cornrows on myself with little success, however this recent binge has given me the motivation to try attempting them again.
Me wearing Senegalese twists with yarn, 2014
Given the highly charged politics that characterize modern American race relations, why is a white woman like me walking into a potential minefield and running the risk of being tarred with the "cultural appropriation" brush for wearing a hairstyle more commonly seen among people of color? Well, for one, braids as a hairstyle have been around forever, existing in one form or another in cultures around the world. Also, more practically, it's beginning to get hot here in Arizona. A previous experiment in protective styling led to the discovery that when my hair is sectioned out in parts for twists and braids, I feel cooler because more of my scalp is exposed to the air and it allows the sweat to evaporate from my head faster. Finally, braids are conducive to deep conditioning because they hold the products in. I could use an extra conditioning boost.
My desire to attempt cornrows again also brings up a question which I have not been able to adequately answer. I'm familiar with Ghana braids and would like to try making them, but my question is whether yarn can be substituted for the braiding hair that's typically used. I'm also curious as to whether flat twists can be boosted with yarn like Ghana braids, but as twists. Despite searching all over Youtube for a tutorial utilizing yarn instead of braiding hair, I was unsuccessful. This is an experiment I'm looking forward to trying out. My results will look either amazing, acceptable, or atrocious. I may even make a video of it.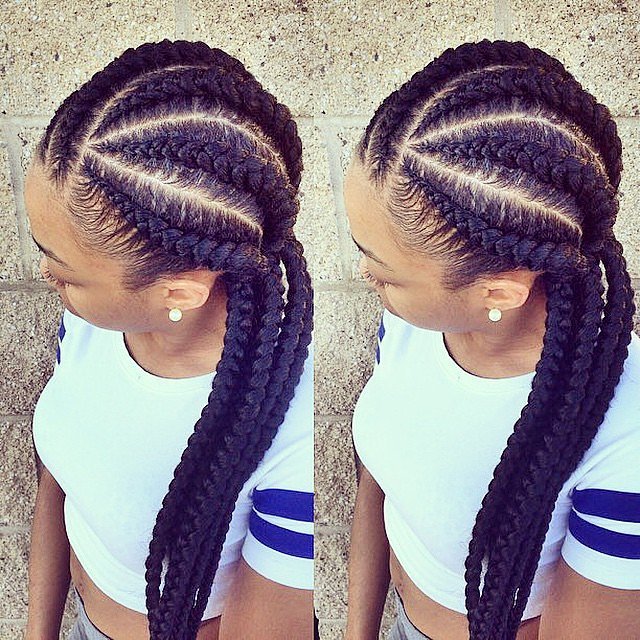 Hair goals. Pic found here
It should be noted that I very seldom wear my hair in any styles other than my ponytail. As cool as I think cornrows are, I rarely wear them because cultural appropriation accusations aside, they take forever to install and I don't feel that my hair is the right texture for the style. Caucasian hair, like mine, is smooth and straight so it's not optimal for holding together in a twist or braid without rubber bands. Also, cornrows by nature are a hairstyle that requires alot of pulling so it could result in hair loss. Given that my hair is naturally weak, I baby the hell out of it with lots of conditioning, no chemical dyes, no tight hairstyles, twice-weekly washes, no heat styling and minimal trims. It's paid off, and my hair is much stronger now. It's safe for me to change up my style for a little bit now.
Thank you for reading this post and please don't forget to share, comment, and subscribe!