Good evening, dear readers.
I have some updates for you regarding our car situation. A few weeks ago, I posted about how a home in the neighborhood had a
1966 Mercury Comet
for sale for $1500. Unfortunately, when we went back
that weekend
to see if we could try starting the car, the owner had changed her mind about selling it. The car belonged to her late husband, and she wasn't ready to part with it yet. Since that deal fell through, my husband has been diligently scrolling through Craigslist in his mission to find a suitable pre-1967 family car. The mission took on a renewed sense of urgency after the steering in our wrecked Oldsmobile gave out,
again
, this past weekend while we were driving home from church and really served to reinforce how unsafe this car had become. The steering had always been touchy because the front end was in dire need of repairs, but now combined with the doors not being able to open or close properly and the axle, it was all just too much. My hubby literally threw up his hands and said "I'm done with this car" when we got home.
Goodbye, Bessie. You served us well.
In the meantime, there were two tempting offers that appeared on our radar: one 1962 Ford Falcon for $1200 located up in Phoenix, and the other was a 1966 Dodge Dart for $1500 located out in Pearce, which is a small town way out in the boonies of Cochise County. The owner of the Ford Falcon had been in contact with my husband and he described the car as shaky because the floorboards were rusted through. He said it was drive-able, but would likely need to be trailer towed since we were not local and would be taking the car back south. The owner of the Dodge Dart also had been in contact with my hubby and described her car as being drive-able, but in need of a battery. It too would likely need a trailer tow to get here.
Though it was not ideal, we figured we'd be making a drive up to Phoenix to get the Falcon. My heart was set on it because it was manual transmission, something I've always wanted to learn how to drive. I could learn to deal with seeing the street under my feet for a little bit. I didn't regard it as being any worse than the Oldsmobile we were now driving. As we researched car rental rates as well as the rate for a U-haul auto trailer, another offer on Craigslist caught my husband's attention. This new car was a 1966 Chrysler Newport, and the owner was local. He was asking $1500 for it and the pictures showed it appeared to be in good condition. My husband contacted the seller for some more information and today we went to see the car.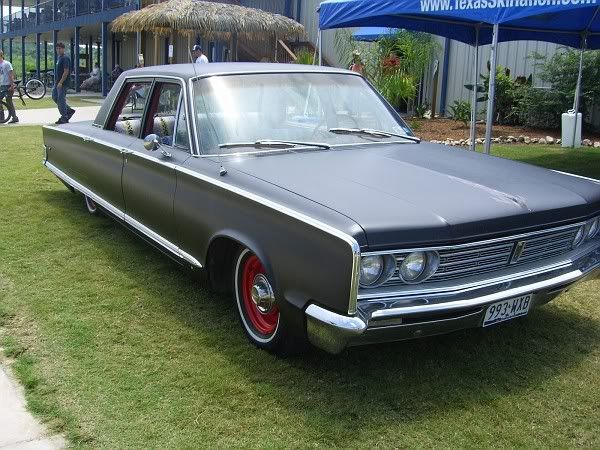 Vintage Chryslers make great lowriders! Pic found here
As we pulled up on the owner's home, there sat the car as though God was shining a spotlight down on it while a chorus of angels sang. The owner came out to greet us and we looked over the car. It was not restore-grade, but it was in remarkably good condition. It even had the copper license plates that the State of Arizona reserves for antique vehicles! The body was straight with no rust, the interior had been reupholstered within the last decade, and best of all, it was all original parts. The engine was a block V8 with a dual carburetor and not a single computer part to be found anywhere. The only problem was that there was a water leak somewhere and that prior to going anywhere, one had to fill the water tank up. My husband took the car around the block for a test drive while I stayed behind with the baby. The owner told me the Chrysler had been his father's car and he'd helped to take care of it, but it was time for him to let it go because his job needs had changed and the car no longer suited them. We made a deal on the car for $1400 and for the extra hundred, the owner would give us the original tires on the car. He preferred the old balloon tires, but for some reason was talked into buying 20" spoke tires. Tomorrow, we get the car, but we come back for the tires on Friday since we will hopefully have our check from the insurance company by then.
This is close to what we'll be getting, except ours is green with a white hard top and the back is more raised. Pic found here
Unfortunately, we left the owner's home at a bad time. The setting sun was shining directly into my husband's face and made it hard for him to drive. Fortunately, there was a renowned truck stop in the area with a world-famous restaurant that we could stop in and chill for a bit until the sun set and we could all drive home safely. This truck stop held some significance for my husband because in 1988, he hitchhiked to Arizona and was dropped off there by a truck driver. From the truck stop, he caught a ride from a random junkie who took him to the base of Mt. Lemmon and it was there that my husband stayed his first night here. We relaxed in the truck stop restaurant, where my husband had some cheesecake and coffee while I had a brownie sundae that was way bigger than I expected. Too bad this truck stop is so out of our way. Their restaurant is quite good and not expensive either. It was a nice treat to celebrate getting our new car.
To say I'm excited about getting our new car is an understatement. We will finally be getting a car that is safe, spacious, durable, and easy to maintain. Since it's an old car, I hope the insurance rates will be cheaper. It may yet be possible to insure me for driving. Since the wrecker is coming tomorrow to tow the Oldsmobile away, my hubby and I spent the remainder of the evening cleaning it out so that it will be a swift and painless departure. Thanks to a miscommunication between insurance agents, we will be getting a substantial payout for our Oldsmobile in exchange for us handing it over. We sent the title to the company yesterday and as soon as both the car and the title are received, the check will be in the mail.
I will definitely be posting pictures of our new car. Right now, I'm trying to get my printer drivers updated so that we can print out a temporary registration until the formal ones come in.
Thank you for reading this post and please don't forget to share, comment, and subscribe!