It's a cold night, so time to crack open another one of my apple beers!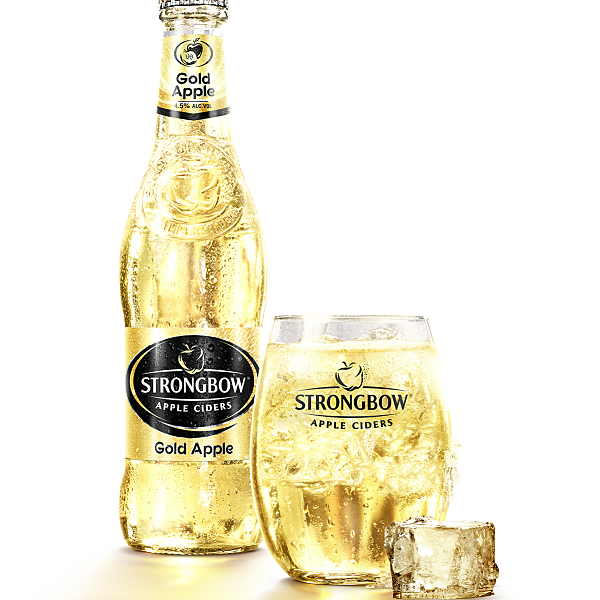 Of note, this is actually an import cider from England! Pic found here
Today's selection was Strongbow Golden Apple hard cider. Like last week's
Angry Orchard
, Strongbow was another brand I regularly saw in the grocery store liquor aisle and wanted to try. Strongbow, its very name inspires the mental image of Robin Hood shooting an apple on top of someone's head with his arrow but was actually the name of an elf hero in one of the epics by the great J.R.R Tolkein, looked interesting to try. With the grocery store featuring a mix-n-match six pack sale, I just had to sample some.
Upon drinking my first sip, I was pleasantly surprised by how sweet it was! There was a bit of a sour aftertaste, but it was much sweeter than the vinegar-tasting Angry Orchard. Looking at the label, however, I understood why. In addition to apple juice concentrate, it was pumped with glucose syrup. It was like a high-class Steel Reserve without the buzz that comes from a high alcohol content beverage.
Believe it or not, Gold Apple goes well with oatmeal cookies. The cinnamon in the oatmeal cookies complements the apple juice taste. I suppose this cider could pair well with pork too, given that pork and apples go well together.
Overall, I was fairly pleased with Strongbow Gold Apple hard cider. I will definitely be buying this brand again in the future.
For more on Strongbow and the other varieties of cider it brews, check out their website
here
. Maybe it's just my browser, but be prepared to enter your birthdate to confirm your age every time you click a tab on the site to explore it. It's not a terribly user friendly site.
As always, please drink responsibly.